Page 1 of 3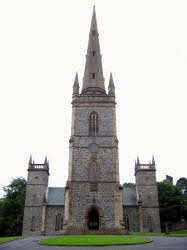 The ancient name of Hillsborough was Cromlyn, and the present name comes from the family which caused the church to be erected, and provided the organ and the ring of eight bells. The family name was Hill, and they were the ancestors of the Marquis of Downshire. It was the first Marquis who had the church restored and improved in 1774, and who installed the bells cast by Rudhall of Gloucester.
There is a fine square tower with a spire at the west end of the Church, in which the bells hang. The old treble and two (now 3 & 4) sit above the new treble and two. Originally, the rope of the Tenor bell dropped to the centre of the ringing room with the front seven bell ropes forming a circle around it.
The bells originally had canons, but these were removed in 1948 when the bells were renovated and restored by Taylor's of Loughborough. There was also a timber frame, and tradition says that neither bolt nor nail was used in the making of this frame.
In 1970, the bells were augmented to ten by the provision of two new Treble bells to mark the twenty-one years' incumbency of the Rector, Rev.Canon John Barry, who was an active bell-ringer. The new bells were cast by Taylor's of Loughborough and they bear the names JOHN and JONATHAN the names of the rector and his son, who was also a ringer. On January 24, 1971, the Rev.John Barry called the ringers to attend a special service, when he blessed the new bells and also those responsible for their installation.
Practice Night: Wednesday 20.00 - 21.30 (except July)
Service Ring: Sunday Mornings - 10.00 - 10.30 ( 5th Sunday in the month - 9.30 - 10.00)
Sunday Evenings: 18.00 - 18.30
All Service Ringing and Practices are cancelled until further Notice due to the current Covid 19 situation.
Tower Contact: Stan Scott
This email address is being protected from spambots. You need JavaScript enabled to view it.
02892682850